Keep track of administrators activity
Sometimes you are not the only administrator of your site, but you need to keep an eye on what your other site administrators, managers and publishers are doing.
Site administration is a delicate task, and you need to know everything that is happening on your site to have control over everything: who is doing what? creating, publishing/unpublishing, updating or trashing articles, modules, plugins or extensions is a list of tasks that any web administrator must be aware of.
Do you want to see a demo of Content Statistics backend component for activity logs?
Content Statistics offers a series of backend-activity tracker plugins that will give you all the information you need  to know what's happening on your site, from a backend (site management) point of view.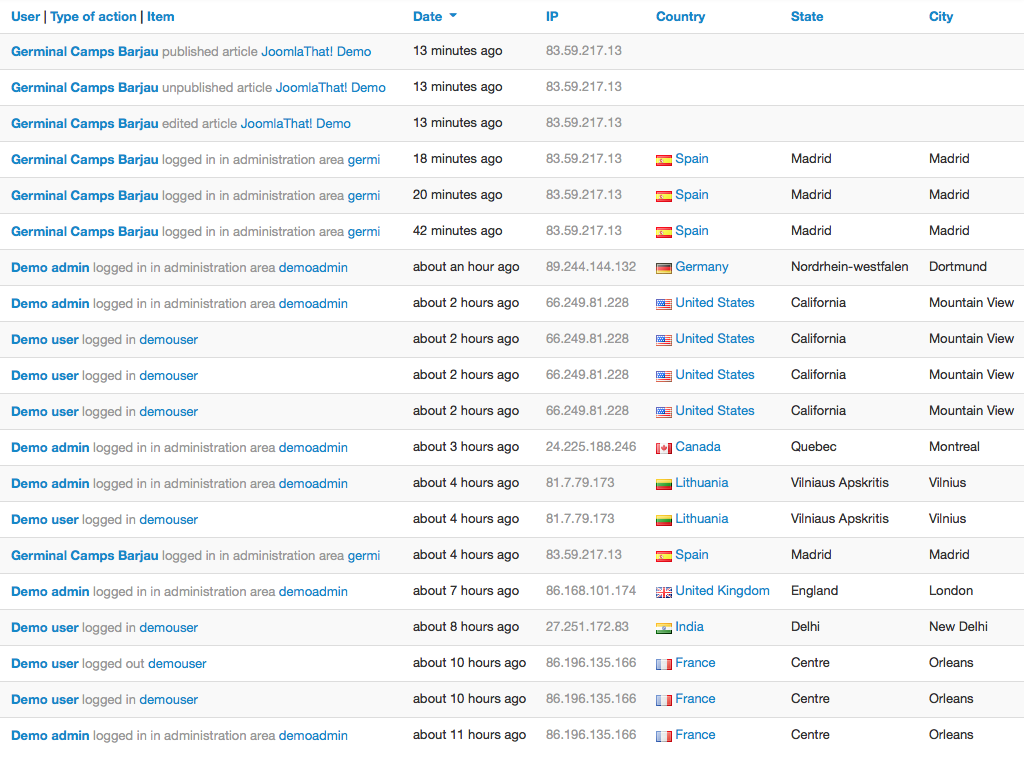 Click on the image to enlarge
The actions you can track, performed by you or your admins, include these:
Articles:
Create articles
Edit articles
Publish articles
Unpublish articles
Archive articles
Trash articles
Delete articles
Users:
Create users
Edit user profile
Admin login into backend
Extensions:
Install extensions
Uninstall extensions
Update extensions
Modules:
Create new modules
Edit modules
Publish modules
Unpublish modules
Trash modules
Delete modules
Plugins:
Publish plugins
Unpublish plugins
Invoice Manager:
Invoice viewed
Invoice created
Invoice edited
Invoice deleted
Invoice emailed to client
Invoice published
Invoice unpublished
Invoice status changed
Invoice exported to PDF
Payment paid on invoice
Quote accepted by client
Quote rejected by client
 With our extension Content Statistics Extended, you can track all these activities and know what's happening on your Joomla backend. This way you'll be able to spot possible causes for issues or errors in the system. You will know how your admins are interacting with the system, what they are doing and changing, at any moment!