Complete activity log for admins
The Extended Versions of Content Statistics include a great new backend interface (a component) where you can see ALL ACTIVITY recorded by the system, displayed in a comprehensive and very functional way.
In other words: you can see WHO did WHAT, WHEN, and from WHERE, without skipping any information.
Do you want to see a demo of Content Statistics backend component for activity logs?
Content Statistics modules give you great statistical and ranking data form the items on your site, and you can make beautiful graphics with this information, for your own use as the site admin, or for your users to see. But with the Extended Version, you can have complete activity log report for everything that is happening, row by row, action by action.
How many times did John Smith downloaded the document A in the month of May?
What articles did Claire read this week? how many times each?
How many document downloads did we have from the UK last week?
Using the new backend interface and all the filters it provides, this info is instantly available to administrators.
Know everything that happens in your site. WHO, WHAT and WHEN... and now also: from WHERE!
Compatible with all our plugins for 3rd Party extensions. Joomla articles, K2, DOCman, Community Builder, JomSocial, Kunena, Zoo, SobiPro, VirtueMart, Tienda, Sobi2, PhocaDownload, Mosets Tree, Music Collection...
Apply filters to narrow the info you want to see (multiple filters can be applied at once):

Date range: From date X to date Y
Component filer: filter results by component
Type of action: Document downloads, Comments on articles, User registrations...
Specific Item: Only the article X or only the document Y...
User filter: show actions performed only by the user A, or the user B...
IP filter
Country filter

Complete activity stream from your site, only for the areas you want thanks to our plugin system.
IP Geo-location, track Country, State and City information form the users!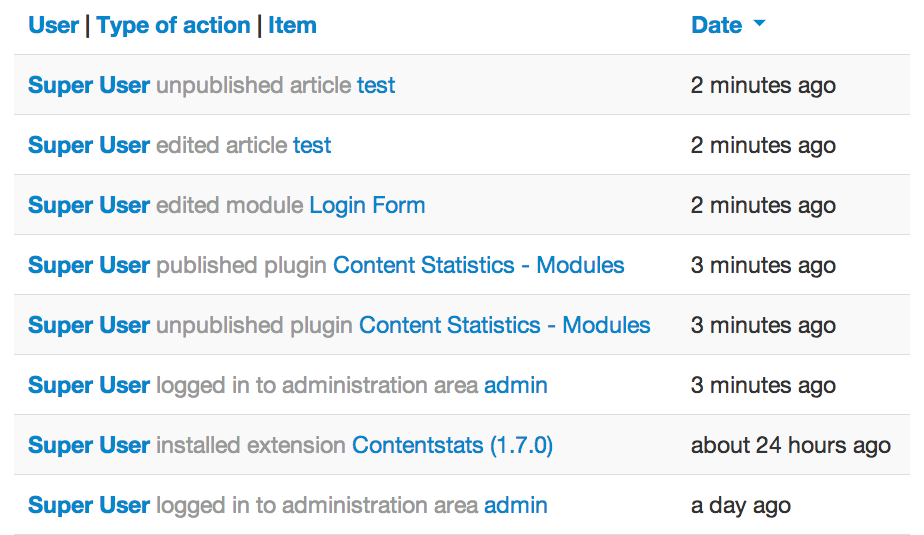 Click on the image to enlarge
Click on the image to enlarge
Image Gallery
Check out some screenshots of what you will find on our backend component for admins that provides full web analytics. All activity is tracked!