Music Collectionis compatible with our own Content Statistics, a complete tracking tool, that keeps record on everything that happens on your Music Collection area...
Artist profile views
Album views
Song views, plays and downloads
Playlist views
and more...
To view reports, two kind modules are available. One of them is used to make RANKINGS, and the other is to make EVOLUTION IN TIME graphics.
Both modules are incredibly highly configurable. They include all kind of filters, allowing you to make all kind of reports. Among others, you can use these filters...
Filter by specific artist, album or song.
FIlter by "currently viewing" artist, album or song. Very useful to inlclude artist reports inside artist page, etc.
Filter by "current user". It will make the reports considering ONLY the actions performed by the currently registered user!
Specify period of time: last hour, today, this week, last month, this year... ANYTHING you can imagine. There's no limit.
Evolution in time
You can use it to see how many times an artist has been viewed along the current week, or month... or see how many songs of the artist have been played along a period of time... or anything you want, or see the total views of all albums on site, or all artists... This module uses the Google Charts API to make the graphics, and all is highly configurable: Sizes, colors...
Examples (these are screenshots of the real module):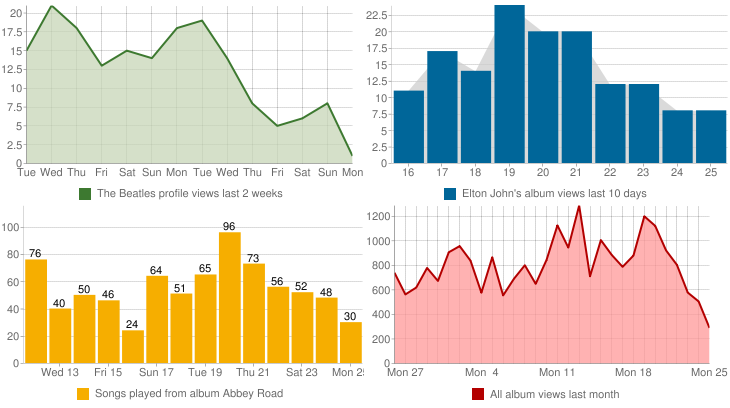 Rankings
Great module to see Top artists, albums, songs and playlist. You can also use all the filters available. You can make global rankings (top artists this month, most downloaded songs this week...) or specific rankings, like "All-time Top albums of this artist", or "Top 10 songs of the album this week". There are three different layouts for this module: normal, table and graphic.