"Related" and "Also Related" artists
Music Collection includes a powerful tool that allows you to easily stablish associative relationships between artists: When we are viewing information of an artist, we are usually interested in other musical projects the artist has been in, or maybe we want to know some of his associated artists and acts.
For instance, lets take my beloved Beatles (and I hope yours, too ;) as an example: All four Beatles went into solo careers when the band split up. Some of them published albums as solo artists, and others created other bands or participated in different projects.
Paul McCartney had (and its having) a succesful solo career, publishing various LP as a solo artist, but he also created the band "Wings", and did some great albums as a member of it.
John Lennon had its solo albums and created also some other musical projects. George Harrison published solo albums and also joined The Traveling Wilburys, with Bob Dylan and Tom Petty among others. Ringo had also a succesful solo career.
So, let's get back ;) to Music Collection. The artist "The Beatles" has some "direct-related" artits, that wouldbe the four members themselves. Each of this direct-related artists have their own direct-related artists, like Wings in the case of Paul or The Traveling Wilburys in the case of George. Wings and Traveling Wilburys would be a "second-level" related artists to The Beatles.
In Music Collection, all you have to do to indicate and display this relations between artists is indicate, in the back-end form of an artist, wich are his direct-related artists: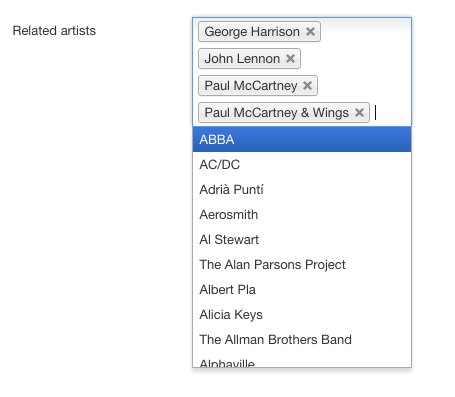 and... that's it!! We DON'T need to tell Music Collection wich are the "second-level" related artists of that artist... MC automaticly does it for us!
And that's not all! If we pick "George Harrison" as a related artists for "The Beatles", we don't need to tell the artist George Harrison that The Beatles are a first-level related artist of him... MC does it automaticly!
So MC does all the dirty work for you... it searches first and second level relationships, in both directions, when displaying an artist on the frontend. The result: with a few clicks we can generate a full-crossed artist tree.

Take a look at The Beatles page and start navigating the collection jsut by clickin' on some related artist!