Invoice Manager 2.1 released
We have completely re-written the TAX system to give you more flexibility and usability for taxes in Invoice Manager.
We are happy to announce Invoice Manager 2.1.
This version comes with 2 major new additions, plus several small changes and performance improvements:
Completely re-built tax system
New "history" tab inside invoices for Content Statistics users.
The new tax system
This new tax system gives a new way of flexibility and usability regarding taxes. What's new?
When adding taxes individually on each item on the invoice, you can define which is the tax being applied
When applying invoice-global taxes, you can set the tax rate on each invoice. No more "adding a new tax for 10%, another for 20%", etc. Just one single tax, but any rate possible.
These two major modifications allow for a much improved Template system. You can show tax totals separetely, grouped by rate, grouped by tax type... anything you want.
Taxes on items
You can define which tax applies to each item, and its % value.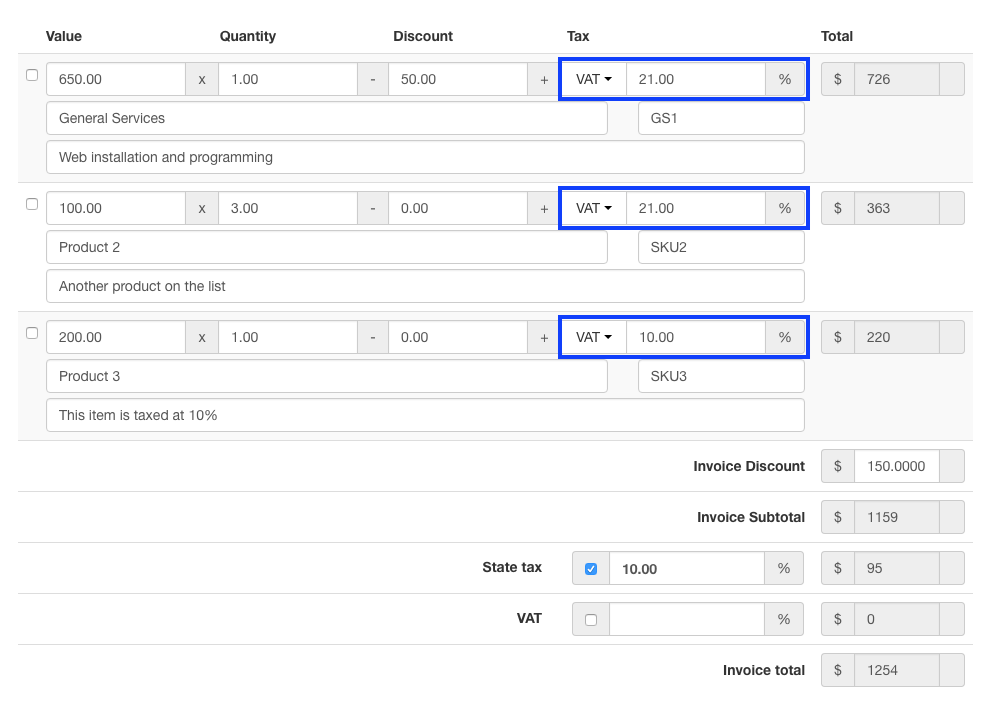 Invoice-global taxes
You can now apply different rates on global taxes, on different invoices. You can have global 21% VAT on one invoice, but 10% global VAT on another invoice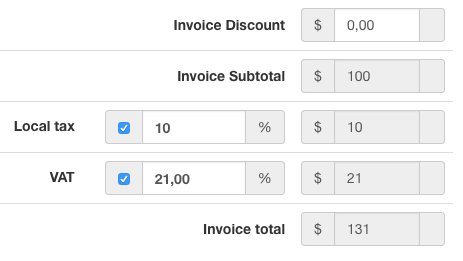 Taxes in the template
All these new additions can now be shown in the invoice template, which offers many more options and tokens for taxes. 
Many new tokens when creating the template...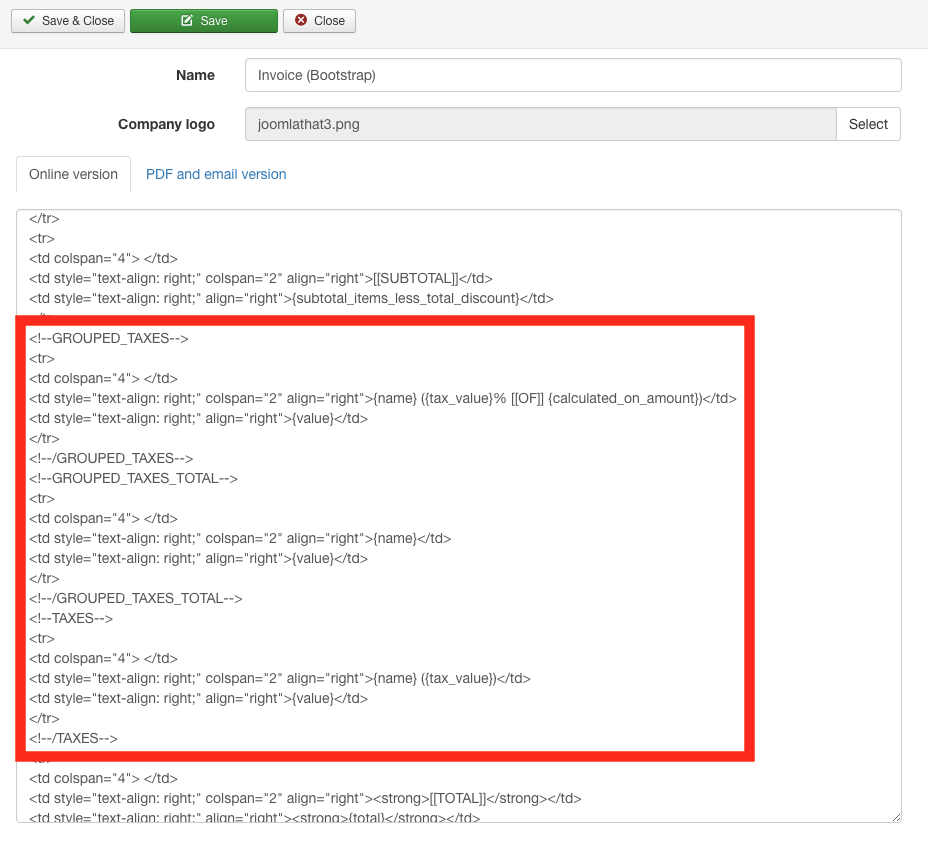 See totals on the backend
All this new information is comprehensively shown in the backend. Now, if you show the tax in a column, it will show you the invoice-global tax, as well as the taxes in the items inside the invoice. Also you will have a nice dashboard for the taxes total. It doesn't matter how you apply the taxes on your invoice (globally or individually), the system will know it and show it to you.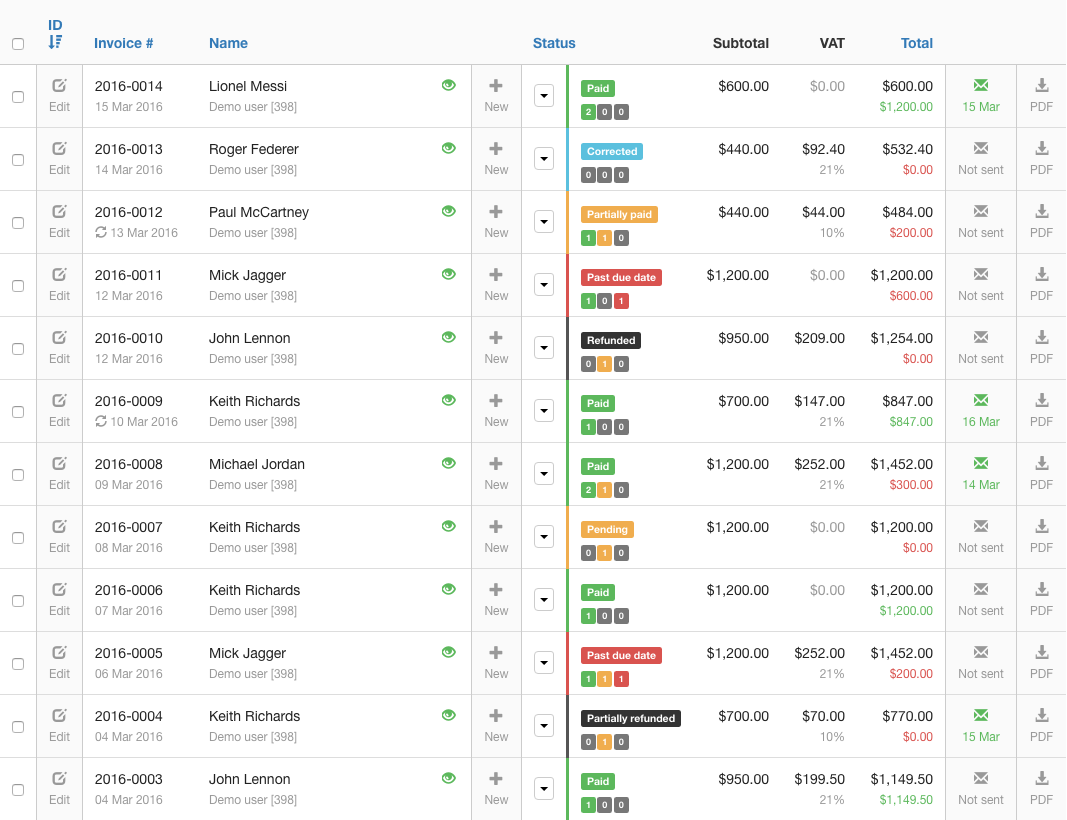 History tab
This one is for our Content Statistics users. If you're not a Content Statistics yet, remember you can upgrade your subscription to include both Invoice Manager and Content Statistics!
We have added a new tab inside each invoice (edit mode) that will show you all the relevant information tracked by Content Statistics on that invoice! We have upgraded our Content Statistics - Invoice Manager integration plugin, which now can register up to 13 different activities made on an invoice.
No more wondering "who messed this up?" or "how many times have I sent this invoice?", or "has the user seen this invoice yet?". With Content Statistics you can now track all this information, and it will be displayed to you in a helpful new tab called "History", right within the invoice. These are the actions you can track:
Invoice viewed
Invoice created
Invoice edited
Invoice deleted
Invoice emailed to client
Invoice published
Invoice unpublished
Invoice status changed
Invoice exported to PDF
Payment paid on invoice
Quote accepted by client
Quote rejected by client