Longer Explanation of Discogs integration functionality for Music Collection 2.0 and video tutorial coming soon. Check again in a few days.
How to search albums on Discogs?
Go to Music Collection backend, and click on the parameters. First thing you have to do is to set up your Discogs API Key

Fill up your API key and save the parameters.
REFRESH the page.
On albums view you see an input field were you can search for albums:

Try to search something. Please consider that not everything can be found on Discogs. You can start by searching "Abbey Road Beatles CD", wich will return some results for sure:

Click on Search button. Wait a couple seconds and you'll see a list of results returned by Discogs: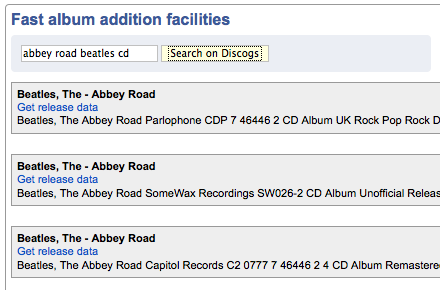 The results include a title and a short description of the item. When you see an item you like, click on link "Get release data". Wait a couple seconds, and an album form auto-filled will appear below that option, with all the fields that could be filled. Fill those that couldn't be found on Discogs.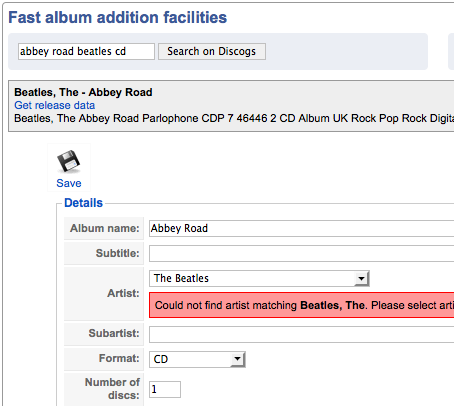 When the data is filled, click on SAVE button, just above the form. The album with all the data will be saved into your collection.