Affiliate
Tracker
Affiliate Tracking, Traffic Logs and Commissions for Joomla!
Affiliate Tracker is a complete affiliate tracking tool for Joomla site owners to create a full Affiliate Program. Track referrals, commission sales provided by your affiliates and increase profits and traffic!
Automatic affiliate ID tracking
One centralized area for everything: integrates with VirtueMart, HikaShop, RedShop, PayPlans, K2Store, Emerald...
Multiple accounts & commissions per affiliate, multi-level affiliates
Define your own conversion types
Pay your affiliates online (PayPal, Stripe)
Graphic reports with Content Statistics
Compatible with Joomla 2.5 & 3.x
Powerful features learn about the main reasons to start using Affiliate Tracker!
---

With this Affiliate marketing tool, you can increase traffic to your site, increase your profits, know where your customers come from, and pay your affiliates for sales made on your site!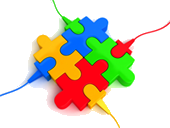 Affiliate Tracker integrates with most used e-commerce/subscription extension for you to track sales and user subscriptions. VirtueMart, PayPlans, HikaShop, RedShop...
---

Your affiliates can apply for new affiliate accounts/links, view traffic log generated for their links, commissions earned, payments history and graphic charts, all in the frontend.

You, the site owner, have full control: approve (or not) new accounts and new conversions, manually or automatically. Set the commission you want to give to each of your affiliates. All is customizable, and you have access to see all activity from all the accounts.
---

Affiliate Tracker supports multi-level or multi-tier affiliates. This means that affiliates can have other subaffiliates as children building a hierarchy in which you can define a commission for each level.

In Affiliate Tracker, the manager or administrator has the possibility to provide the affiliates marketing material to place banners on their websites.
---

We provide plugins to track most common actions of interest (sales on your site mainly), but you can define your own conversions with our simple API and track whatever action of your interest
---

Get notified when a user applies for a new affiliate account, or when a new conversion is made (and requires, or not, your approval)
---

Multi-language
Multi-language support: Easily use in any language you want

Open source
Our software is 100% open source code, there's nothing encrypted
---
And more features...
Outstanding technical support from our team
100% open source code
Supported extensions
---
Affiliate Tracker offers additional plugins for you to extend its capabilities and integrate it with other Joomla e-commerce extensions, to make the affiliate program be adapted to your site's store and extensions!

Affiliates for VirtueMart
Track VirtueMart sales and commission your affiliates for the sales referred
---

Affiliates for PayPlans
Track PayPlans subscriptions and commission your affiliates for the sales referred
---
---

Affiliates for OS Membership Pro
Track OS Membership sales and commission your affiliates for the sales referred
---
---
---
Increase traffic and sales to your site by starting an Affiliate Program in your Joomla! site. Users will join your Affiliate Program and they will work to provide traffic to your site by placing links or ads in their site. You will increase your sales, and can give commission to them per sale.
Affiliate Marketing is key to the success of any online business: turn your loyal users into partners that will work to provide success to your business
The basic features provided by Affiliate Tracker
Front-End (what your affiliates will see)
Users can apply to be affiliates
Users can request multiple accounts (different IDs, different tracking links)
Affiliates can view conversions approved
Affiliates can view commissions earned
Affiliates can view log of traffic they generated
Affiliates can view payment history
Back-End (what you, the site admin, will see)
See all user accounts, approve or reject them
Set the commission per account, independantly (different accounts can have different commissions assigned, percentage or flat rate).
See all account generated traffic
See conversions generated, approve or reject them, set their commission.
You can manually set any commission or number at any point
Get notified by e-mail when users apply for new accounts, or when new conversions are achieved.
Create multiple payouts for multiple commissions for your affiliates, pay them online when you want.
And also...
Track all referrals, see the IPs, see the referer links
Filter results and search by date range, account, user...
Integrated with VirtueMart
Integrated with HikaShop
Integrated with RedShop
Integrated with PayPlans
Integrated with K2Store
Integrated with Emerald
Integrated with OS Membership Pro
Integrated with Akeeba Subscriptions
Integrated with Joomla users registration
Integrated with J2Store
Integrated with Invoice Manager
Missing something?
We are always looking for new useful features to add to Affiliate Tracker. We love to listen to what our customers say to see what we can add to the software so it gets more and more useful to the users looking for a simple but powerful and usable Affiliate program system for Joomla.
If your request is very specific, we can develope customly for you in our Custom Coding Service!
Affiliate Tracker image gallery (Joomla front-end)
---
Affiliate Tracker image gallery (Joomla back-end)
---
No images found.
How does affiliate marketing work?
---